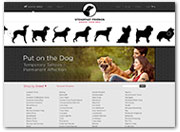 Steadfast Friends homepage
Steadfast Friends is a family-owned and operated business that provides unique products featuring dog breed silhouettes. Their new website STEADFASTFRIENDS.COM showcases those products.
Web Solutions has built a website that is easy for users to navigate and search for their favorite canine-inspired products. The website includes an image rotator on the homepage for users to select their dog breed as well as a "Giving Back" page, which allows users to nominate new canine charities.
"It was important to us that people were able to select the charity they wished to donate to as well as allowing them to nominate new charities. Web Solutions made this possible and we are extremely happy with the result of the website. It is user-friendly and also allows us to easily update our webpages as we introduce more products into our growing company," said Greg Malcolm, owner and founder of Steadfast Friends.
To learn more about Steadfast Friends and find a gift for the dog lover in your life, visit www.steadfastfriends.com!
---