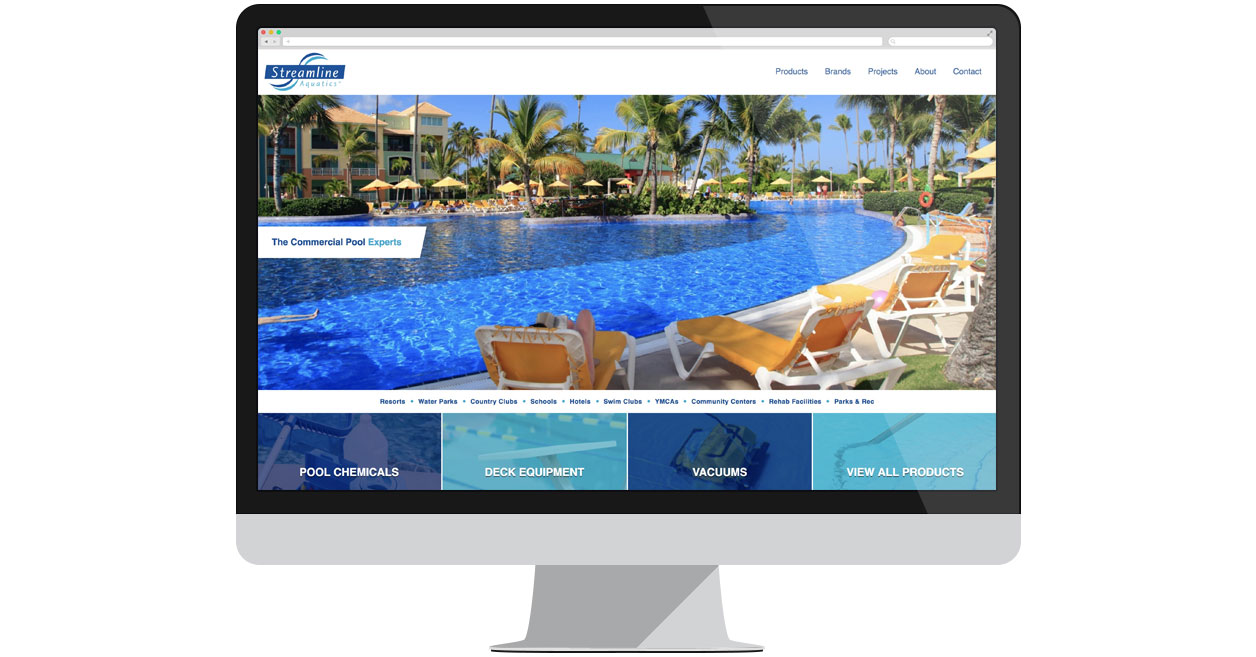 Streamline Aquatics is a one-stop supplier of aquatic needs for commercial pools in resorts, country clubs, water parks, hotels, schools, fitness clubs, and community centers.
The company distributes a wide range of aquatics equipment, from accessories including steps, slides, and diving boards, to day-to-day maintenance supplies and chemicals.
"We knew it was time for a new updated website that was more responsive to our customers' needs," said Dawn Peck, owner of Streamline Aquatics. "We were looking for a web design agency that could help in developing our company messaging to attract new customers and educate our customers on current product offerings. Web Solutions accomplished both with the new website."
Web Solutions built a fully responsive website in its proprietary Content Management System v4, with a clear navigation that makes it easy for site visitors to find what they're looking for. "Our customers now have access to webinars and tutorials presented by Streamline Aquatics vendors, along with in-depth product materials," said Peck.
Each product category (pool equipment & accessories, chemicals, chemical equipment, deck equipment, filtration systems, UV systems, and vacuums) includes an overview, a list of product types, and the brands they carry.
For those looking for a specific pool equipment manufacturer, the site's brand section lists all the suppliers affiliated with Streamline Aquatics, including an overview of the company and a list of product offerings.
For customers looking to make a purchase, Web Solutions created an interactive sales map showing the areas Streamline Aquatics serves in New England and the North Mid-Atlantic, and which brands they sell in each region. Site visitors simply select a state to see the brands and products available, and the contact information for the appropriate sales rep.
"The staff at Web Solutions was always available throughout the whole process," said Peck. "They were creative, professional and easy to work with. We would highly recommend Web Solutions to other small businesses looking to enhance their current website or create a new website like we did!"
For more information, visit www.streamlineaquatics.com.
---