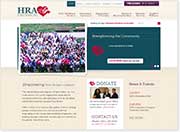 HRA of New Britian homepage
The Human Resources Agency of New Britain, Inc. is a multi-service, non-profit organization dedicated to increasing economic self-sufficiency among individuals and families residing in Greater New Britain.
The new website showcases everything the HRA does, making their programs easy to find with both an organized navigation system and a programs mega-menu. Visitors can find up-to-date news, events and career opportunities, and can learn more about getting involved or even make an online donation.
"We are trying to reach a variety of audiences with our website – the individuals and families who need our services, government and elected officials, funders and others," noted Caren Dickman, Communications and Grant Development Specialist at HRA. "Each has a different expectation – a challenge we tried to meet by keeping the new website user-friendly."
"By far, our favorite feature is the CMS! This may not sound like much to some, but non-profits don't have the money to keep up-to-date with technology – as a result we went way too long with a stale website. Our challenge now is to change our behavior – reminding ourselves that we have a website that we are proud of, that we can use and that we need to use!"
To learn more about HRA or to see how you can get involved, visit their website at www.hranbct.org!
---