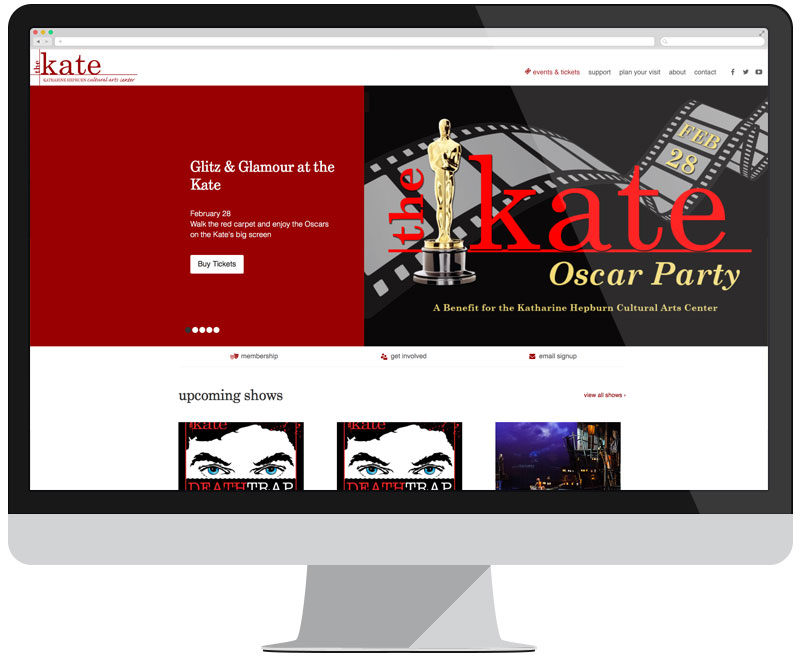 Katharine Hepburn's appeal is timeless, but the website for the Katharine Hepburn Cultural Arts Center—a nonprofit performing arts organization in Old Saybrook, CT—was beginning to show its age. It wasn't easy to maintain or update, functions weren't working correctly, and its style wasn't up to the standards of the legacy of the great Kate.
The Katharine Hepburn Cultural Arts Center, affectionately known as The Kate, wanted a new site that was as functional as it was beautiful—a site representative of the Katharine Hepburn brand, but also forward-thinking, technologically modern, and easy to use and maintain.
Web Solutions created a site that fit the bill. The new website, launched in December, embodies a bold, elegant style reminiscent of Kate herself.
The Kate hosts more than 200 performances a year, so it was important that the site be able to store and display current event information in a streamlined, attractive way. With the implementation of PatronManager, a back-end ticketing system, the site no longer requires that event information be entered twice—once in the ticketing system and once in the website. Now, staff at The Kate need only enter event information into PatronManager and the information is imported directly into the website. The Kate's event list is now refreshed daily on the site, ensuring that potential visitors see the most up-to-date information.
Because The Kate had discovered that video helped sell tickets, Web Solutions also created a custom "details" page for each event, which allowed the addition of related videos, such as previews and clips of performers' shows.
The Kate also wanted to use its new site to encourage patrons to use attending a show as an opportunity to experience Katharine Hepburn's beloved Old Saybrook, where she had a home for 64 years. To that end, the site goes beyond giving logistical details for theatergoers to provide suggestions for where to dine, shop and stay.
And to keep Katharine Hepburn's legacy alive, The Kate is also using the site to engage a new generation of Kate lovers with a wide range of camps and activities for kids.
To learn more about the Katharine Hepburn Cultural Arts Center, visit the new website at katharinehepburntheater.org.
---