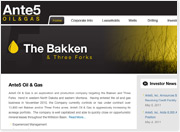 Web Solutions is pleased to announce the launch of the new Ante5 Oil & Gas web site.
The site, which launched in late April, was designed to be a simple yet streamlined web presence for Ante5, an oil and gas exploration and production company with headquarters in Minnesota.
The site's clean design makes it easy to navigate as well as aesthetically pleasing, and allows multiple resources – including news archives and an educational video on horizontal drilling – to be presented in a well-organized way. Joshua Wert, Chief Operating Officer of Ante5 Oil & Gas, noted that the new site is "a convenient tool for Ante5, allowing us to upload documents and control content from the back end."
As a publicly traded company, one of Ante5's top priorities for the new site was a section devoted to investor relations, complete with an integrated feed displaying the company's up-to-date stock quote. "We are very pleased to offer a comprehensive online resource, particularly for current and prospective investors who want to learn more about Ante5 Oil & Gas," Wert commented.
Ante5 Oil & Gas, Inc. is an exploration and development company based in Minnetonka, Minnesota and focusing on regions in North Dakota and Montana. Learn more about them by visiting their new web site, www.ante5oil.com.
---