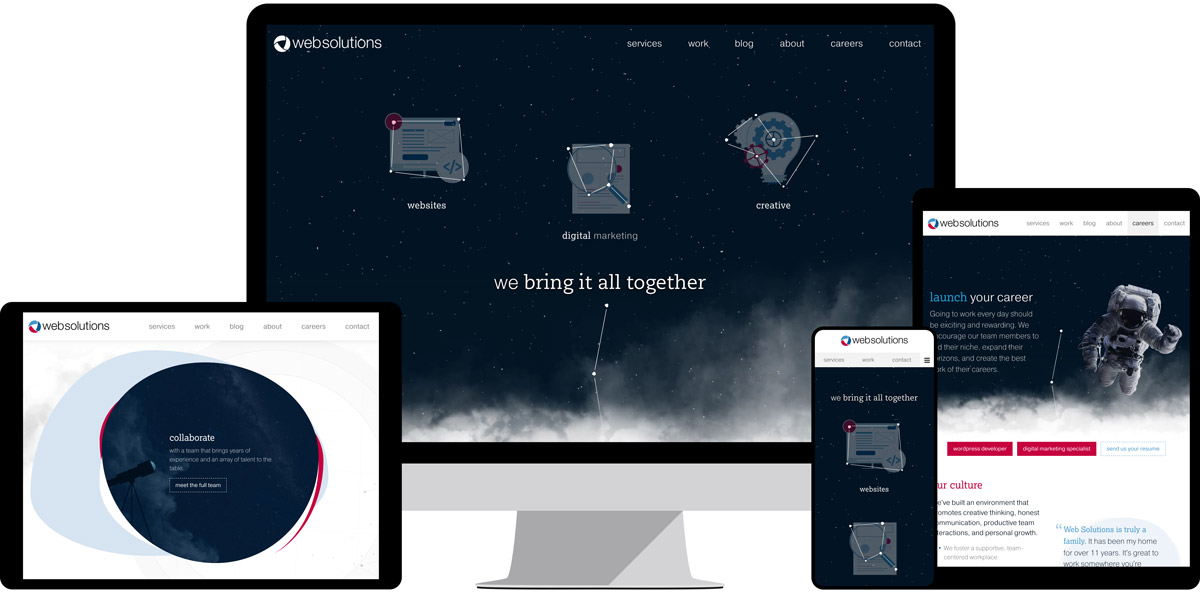 Web Solutions is a leading web design and digital marketing company located in Connecticut since 1996.
After building hundreds of websites for clients in Connecticut and across the country, Web Solutions turned its attention to creating a new version of its own website to better represent the company's personality, skills, and capabilities.
The new website, built in the company's own proprietary Content Management System v4, is based on a "space" theme, with content and design elements including the sky, constellations, missions, discovery, and infinite possibilities.
The new website includes a redesigned "work" section—a portfolio showing examples of the company's web design, logo design, copywriting, wireframes, email design, custom landing pages, and more.
The new "services" section provides a comprehensive look at the full range of capabilities offered by the talented and experienced Web Solutions team, including websites (web design, web development, hosting, security, CMS and platforms), digital marketing (SEO, digital ads, social media, email marketing, analytics and reporting), and creative (branding, graphic design, and content).
"As a busy web design and digital marketing agency, we're always hard at work building new websites for our clients or using our digital marketing expertise to help them build their businesses," said Tom Barton, Web Solutions CEO and founder. "Our clients are our top priority, so we sometimes have to put updates to our own website on the back burner. Through a dedicated team effort, we are proud to present our new online 'face' to the world, with a fresh look, improved navigation and organization, and a better presentation of the value we offer our partners."
For more information, visit https://www.websolutions.com.
---