(Meriden, Conn – July 12, 2010) When one of the nation's leading providers of luxury African safaris for the discerning traveler, Classic Africa, wanted to relaunch their online brand, they turned to Meriden-based Web Solutions to capture and recreate Africa's unsurpassed natural beauty, cultural diversity and its incomparable adventure.
Featured in the New York Times, Fortune Small Business Magazine, Newsweek and CNN.com, Classic Africa was founded by Margaret and Pierre Faber, a pair of Oxford Ph.D.s, who share a lifelong love affair with the continent. The company, which specializes in designing exclusive, tailor-made photographic safaris for individuals, couples, families and small groups of friends, was born of their mutual passion for the wilderness, wildlife and people of southern Africa.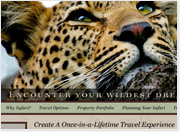 Starting with a worn antique leather map and countless original photos of the African landscape, Web Solutions' designers worked closely with Margaret and Pierre to create a site that captured the beauty and romance of Africa in every pixel. The homepage flash sequence transforms scrapbook sketches of a bygone era into dramatic images of Africa today. But as striking as the imagery is, the site's real beauty lies in its depth and functionality.
"This is easily one of the most visually stunning site we've ever created," said Tom Barton, Web Solutions Principal. "It's a study in natural beauty, but as web designers and developers, the site's true splendor is in its ability to clearly deliver large amounts of information through its encyclopedic property portfolio and interactive map."
The custom-designed property portfolio is the site's key component, allowing visitors to begin planning their personal adventures by virtually visiting seven countries, 32 destinations, seven property types and twenty desired experiences.
For the visually inclined, an interactive map of southern Africa was created that allows guests to view the geographic location of each of the seven countries and 32 destinations. The visitor can then click on any of the destinations for a photographic slideshow and detailed information on the region.
"The sites aesthetic qualities speak for themselves but for a business like ours," said Pierre, "it's critical that we not only capture but also educate the visitor, and this site does both those things seamlessly. We couldn't be happier with what was accomplished."
Additionally, the Web Solutions team crafted an in-depth SEO strategy to effectively optimize the property portfolio and make use of the wealth of information contained in the site's dynamic database. Web Solutions created a series of SEO rules and templates so that each page in the portfolio would be auto-optimized for organic search ranking. When a new destination, property, or experience is added, the new pages are automatically optimized for the search engines.
To experience the site for yourself, tour Classic Africa at www.classicafrica.com.
---