We're only days away from one of New England's most colorful events!

The 33rd annual Meriden Daffodil Festival, a much-loved community tradition, will take place on Saturday, April 30th and Sunday, May 1st. Web Solutions is pleased to announce its sponsorship of the 2011 festival. As the festival committee works tirelessly to prepare for this year's events, Web Solutions has also been assisting with updates to the Daffodil Festival's web site.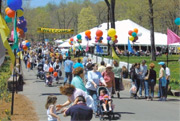 Meriden Daffodil Festival
With over 650,000 daffodils in bloom throughout Meriden's Hubbard Park, the Daffodil Festival is considered one of Connecticut's premier events. Over 100,000 visitors are expected to turn out for the festival's live music, carnival rides, craft fair, tag sale, and huge food tent where local non-profit organizations will be serving up delicious and creative offerings. Thousands of unique items will be for sale by over 100 exhibitors and vendors.
Mark Zebora, director of Meriden's Parks and Recreation Department, is the chairman of the festival committee. He's helped to coordinate the Daffodil Festival since it began in 1979, but stresses that each year's festival is unique; this year, he notes, there are 33 new entertainment vendors. "We're very excited for this year's festival," Zebora commented. "And we're excited about this weekend's weather, too – the forecast looks great!"

And with plenty of fun activities for kids, the festival is bound to be fun for the whole family. Children can enjoy live entertainment including karate, juggling, magic, and animal shows at the "Theater of the Trees," get their faces painted, take a pony ride, and even meet Spiderman!
This year, visitors will get to enjoy a wide variety of special events, including the crowning of Little Miss Daffodil, a 5K road race, the city's largest parade, and a spectacular fireworks show.
Both parking and admission to the Daffodil Festival are free, but this event only happens one weekend a year – so don't miss out! For more information about the festival including hours, directions, and program schedules, please visit the Meriden Daffodil Festival's web site, www.daffodilfest.com.
---