10 Must-Haves for Your Facebook Business Page
Posted on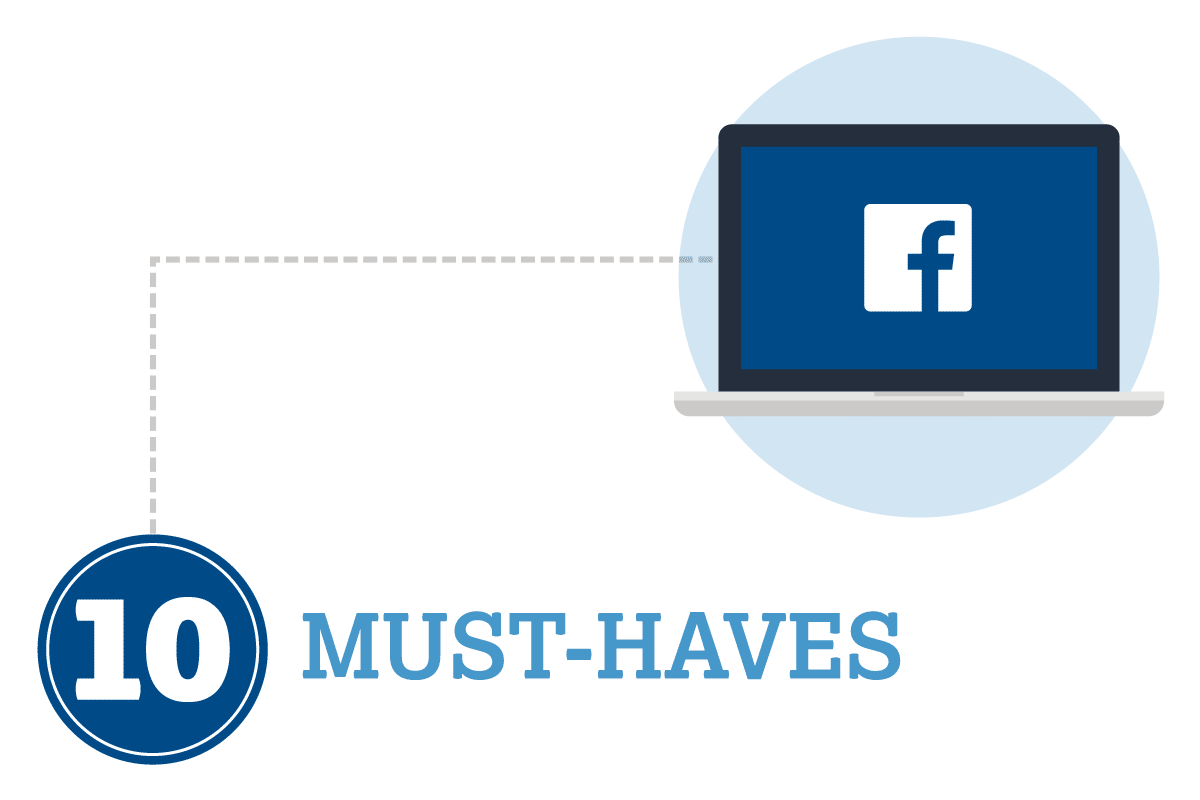 Your Facebook Business page is the social face of your company. Make sure you're engaging your audience and presenting your brand in the best light with these essentials for your company Facebook page.
1. A recognizable profile picture that represents your brand.
Your profile picture (the smaller one at the top left of your page) is an important way to promote your brand and be recognized by your customers—the profile picture is what displays in Facebook search results, and a thumbnail version will appear next to your posts in other people's feeds.
Use a high-quality image of your logo, or something that represents your company. Whichever image you use, Facebook will crop it into a square that displays at 170x170 pixels on desktop and 128x128 pixels on a smartphone. Facebook frequently updates photo dimensions—you can find the current sizes here.
2. An engaging cover photo.
When visitors land on your Facebook Business page, your cover photo is where their eyes go first. Choose a high-quality, attractive photo that's simple and compelling, preferably with a clear focal point and not too much text. Studies show that color, typography, relevance to your audience's interests, and the emotions it makes them feel are all important factors in how successful your cover photo is at attracting your audience and keeping them interested.
Your cover photo must be at least 399 pixels wide and 150 pixels tall, and it displays at 820 pixels wide x 312 pixels tall on desktop, 640 x 360 pixels on mobile. Since one photo is used at two different sizes, suggested sizes range from 820 pixels wide by 462 pixels tall to 1200 x 675. Whichever size you use, visit your Facebook page from both a desktop and mobile device to make sure it looks good and nothing important is cut off. Be sure your photo abides by Facebook's cover photo rules, which include not being misleading or infringing on anyone else's copyright.
3. A verification badge.
Facebook uses a gray check mark badge to indicate that a local business, location, or organization has been verified as authentic. Not only does the verification badge give your Facebook page instant credibility, it lets your visitors know that your business is legitimate and that your Facebook page is the official page for that business, rather than one set up by someone unrelated to the business.
4. A custom URL.
When you set up your Facebook Business page, Facebook assigns your page a URL that looks something like this: http://www.facebook.com/pages/Your-Business/857469375913?ref=ts. Once your page has received 25 likes, the page admin can create a unique URL such as http://www.facebook.com/pages/Your-Business/, which is more memorable and easier to find and share. The new URL must not already be in use by another page, and must abide by Facebook's guidelines for usernames. Choose carefully, because custom URLs can't be reused or transferred.
5. A thorough About section.
The About section is one of the most-visited areas of a Facebook page, and it gives you a great opportunity to tell your story, describe who you are and what you do, and explain your mission and what you stand for. Include the basics (website, contact information, hours), and consider adding more creative touches such as testimonials from happy customers, or a year-by-year company history that highlights accomplishments and milestones. Also, be sure to use keywords that relate to your business, products, or services, so people who use Facebook search as a traditional search engine will find your page.
6. Engaging, consistent posts.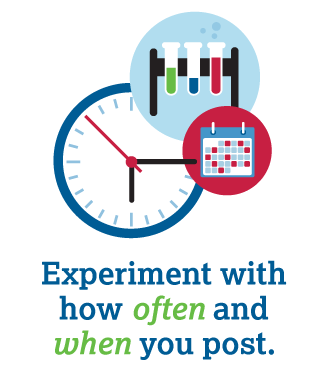 If your customers follow you on Facebook, that means they're interested in your company, your products, and what you have to say. If you don't keep them entertained and engaged with regular posts, they'll likely stop visiting your page. Create an editorial calendar to ensure you have enough material for quality, consistent posts. Create various types of posts, including event announcements, helpful tips, news that's relevant to your audience, company events and milestones, holiday and seasonal subjects, and leave room to post about hot topics that suddenly trend.
Be sure to include images or videos with your posts—Facebook posts with images see 2.3 times more engagement than those without. Studies have shown that five times per week is the ideal Facebook posting frequency, with the best days being Thursday through Sunday and the best times in the afternoon, but the optimal posting schedule is different for every business, so test to see what works best for you.
7. Videos.
Videos are a great way to get your audience's attention. Videos are more likely to be shared than any other post type, and Facebook users watch live videos three times longer than prerecorded videos. According to research by HubSpot, the ideal length for a Facebook video is 1 minute.
As of June 2017, you can now use a video as your cover photo. Cover videos are uploaded in the same way as cover photos, at pretty much the same dimensions. Videos can be from 20 to 90 seconds long, and you decide how they loop.
8. A call to action button.
Want to drive Facebook visits to your website? Add a call-to-action button inviting your social audience to perform the desired action. Facebook offers seven call-to-action options, including "Sign Up," "Watch Video," and "Book Now."
9. Properly assigned page roles.
When you create a Facebook Business page, you automatically become the admin for that page, which means only you can publish posts and make changes on the page. If you want to give other employees access to your company page, make you sure you assign an appropriate page role for each. Visit the Facebook Help Center to learn about the six types of Facebook page roles, how to assign them and what each role is authorized to do.
10. A distinct voice.
Your Facebook Business page should do more than give your audience a way to connect with you and find out what's new at your company—it should embody your unique personality. To convey that personality, your company Facebook page should have a distinct voice that strikes a chord with your target audience. To establish and maintain a consistent voice, create a messaging architecture and make sure everyone authorized to post is on the same page.
---
---