Wondering If Snapchat

Can Work for Your Business?

posted on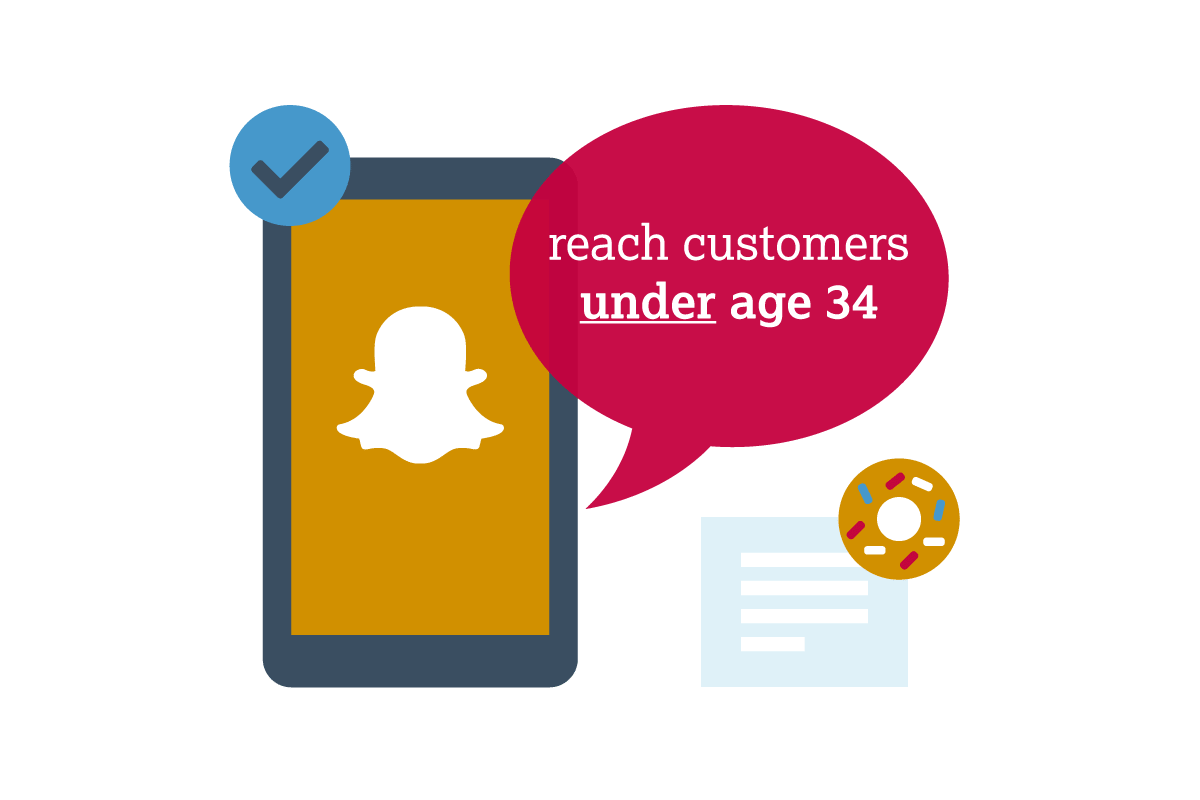 If you have a small business and you're trying to reach customers under age 34, you should seriously consider adding Snapchat to your marketing plan.
Snapchat is a social media channel that was founded in 2011 and now has 186 million daily active users (71% of which are under 34) who spend an average of 34.5 minutes per day on the platform.
To use Snapchat, you take photos or videos called snaps, add fun filters or effects, and send them to friends and followers. Snaps disappear after they have been viewed. You can also create a Snapchat story, which is a collection of snaps that play in the order you took them, and stay visible for 24 hours.
While Snapchat was originally used only between friends, businesses are increasingly using it for marketing purposes and are seeing a positive response from Snapchat users—55% of Snapchat users follow one or more brands on the platform, and 11% of Snapchat users are very likely or somewhat likely to make a purchase on the platform, compared to 3% of Facebook users.
Snapchat's promoted lenses—such as the popular one used by Dunkin' Donuts to turn people's heads into giant pink donuts—have a price tag that's out of reach for small businesses, but there are plenty of affordable ways for small businesses to use Snapchat to reach their target audience.
Follow these tips for successful Snapchat marketing.
Don't take your brand too seriously. While Snapchat got an early reputation for letting people send R-rated content, the fact is that Snapchat users mostly send funny things. Match your tone to the platform by coming up with playful, fun content to share.
Post content that resonates with followers. Don't expect your Snapchat audience to be interested in boring shots of your products. Connect your snaps to relevant topics or buzzworthy news or events to keep followers' interest.
Take your followers behind the scenes. Want to create a better bond with your customers? Use Snapchat to give them exclusive access to your office, production facility, or special event so they can get an up-close look at your company culture, how your products are made, or what's going on backstage.
Feature user-generated content. People love to create their own content for Snapchat—users send more than 3.5 billion snaps every day. Tap into this love of content creation by asking your followers to send you pictures and videos of them interacting with your brand or using your products.
Hold a contest or promotion. A contest is a great way to increase engagement and get new followers. You can go big, like WOW Air, which asked followers to create and submit a story for the chance to travel for free for three months; or small, like GrubHub, which increased its followers by 20% with a $50 daily prize for a weeklong scavenger hunt.
Offer special deals. Having Snapchat followers is great, but if getting customers and making sales is your end goal, use the platform to give followers special discounts and promotional offers for your products and services.
Respond to customer comments and messages. Like other social media platforms, Snapchat lets customers send you direct messages and make comments on your posts. Show you care about your followers by responding quickly to all messages.
Promote your Snapchat presence on other channels. To get as many followers as possible, make sure you let your customers know you're on Snapchat. Post an update with a link to your Snapchat profile on other social media channels and your website, and send out an email to your subscriber list telling them where they can find you on Snapchat, asking them to follow your brand, and letting them know what they'll get if they do.
Use Geofilters. Geofilters are small art graphics that can be overlaid on a snap when a person takes a snap within a designated area, or "geofence." Snapchat's on-demand geofilters start as low as $5 and can be active for one hour to 30 days for an area covering 20,000 to 50 million square feet. Geofilters are great for promoting an event, showcasing your location, or telling customers when a brand representative is going to be in their area.
Buy ads. Ads on Snapchat are now cheaper than ads on any other social media channel—according to a report from AdAge, Snapchat ads cost an average of $2.95 per thousand impressions, compared with $4.20 for Instagram ads and $5.12 for Facebook ads. In addition to being more affordable, Snapchat ads get more visual attention and generate a stronger emotional response than video ads on Facebook, YouTube, or Instagram. Snapchat offers several types of affordable ads, including Snap Ads, 10-second, full-screen videos that appears between stories; Collection Ads, which let you showcase up to four products; and Story Ads, which let you push stories to new people through the Discover feed. You can target ads by a number of factors, including interests and behaviors, demographics, location, or lookalikes.
Use analytics to learn and improve. Last year Snapchat improved its built-in analytics tool, Snapchat Insights, to enable creators to get more information about their snaps, including story views, audience demographics and interests, most popular post times, time spend viewing stories, and more. Use Insights to learn about your audience, improve your content, and optimize your posting schedule.
---