PR in Minutes a Day
Posted on by WebSolutions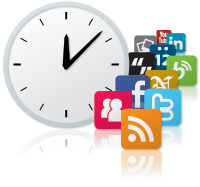 To put it simply, public relations is a tool you can use to build, manage and maintain a public image for yourself, your company or your organization. When all things are equal, what makes us choose one company or product over another is how we relate to that product or brand.
With so much on your plate, managing your company's PR efforts may look like a daunting task and one that often falls by the wayside or becomes too sporadic to make an impact. But with a clear, actionable strategy in place, minutes a day or a few hours a week can pay huge dividends.
And yes, public relations efforts can be far-reaching and very costly, but with proper planning there are low or no-cost strategies that you can execute in just minutes a day to help build and grow your brand.
Setting the Stage
Speed and efficiency are born of planning. You can get to work in 15 minutes a day but that's only because someone took the time to build a highway. So, before we start racing down the track with tips and timing, let's kick the tires on your PR plan.
Goals: Make sure your plan has clear goals and that each of your strategies is designed to reach them.
Messaging: A key component of any PR strategy is to deliver your message clearly and consistently. Develop a script that everyone from receptionists to CEOs should follow when discussing the company and reinforce that script through action at every touch point.
Audience: Be clear on who your target is. Sure, you want everyone to know about your business or organization but by targeting a demographic "sweet spot" (e.g., a niche market, repeat customers, decision makers, etc.) you can often gain more by doing less.
Delivery: Understand your target's interests – what they're reading, what websites they're visiting, what events they're attending – and then position yourself where they'll see you.
Smoothing It Out
Promotional events, product launches and crisis communications aside, once the groundwork has been completed, you can dissect your PR plan into manageable portions that can help keep your brand top of mind with consumers with a small daily investment of time.
Connect: Take some time to introduce yourself to newspaper and industry publication editors and offer yourself as a resource for information in your field or industry. Ask them about the kind of story they would be interested in. Taking a few minutes of your day to make that connection can open doors for press releases, editorials and advertorial opportunities. Remember to be persistent, follow up and maintain the connection.
Automate: Take a few minutes to set up news alerts on search engines and news sites related to your industry and your company or organization. With so many conversations taking place online, tracking can be time consuming, but not tracking can be costlier. Automating that process can save you time while keeping you informed of what's being said about your brand.
Engage: Take a few minutes each day to engage your social networks by posting new information and responding to questions. It will keep your fans/followers connected and reinforce brand loyalty.
Inform: Engaged consumers want to hear from you and you can build their trust in you by providing accurate and useful information. Take 20 minutes a couple of times a week to find interesting industry articles or tips that they would be interested in. Compile that in a monthly enewsletter along with information related to your company and you've got a brand-building sales tool.
Think: It sounds easy enough, but making time to just sit and think can be difficult. Public relations plans and strategies should be working documents, adjusted for what's working and what's not, so take some time to analyze and evaluate your efforts. The time you spend thinking of new strategies is worth more than time spent spinning your wheels on futile efforts.
Push Through
PR is a long-term tool that should be part of your overall marketing communications strategy, so don't give up if you don't see immediate results. Stick with it.
Strong brands are built over time, so keep communicating and if you find yourself frustrated or short on ideas, give us a call to learn more about creating an effective PR plan or finding time-saving strategies in your existing plan.
---
---