What is Content Marketing?
posted on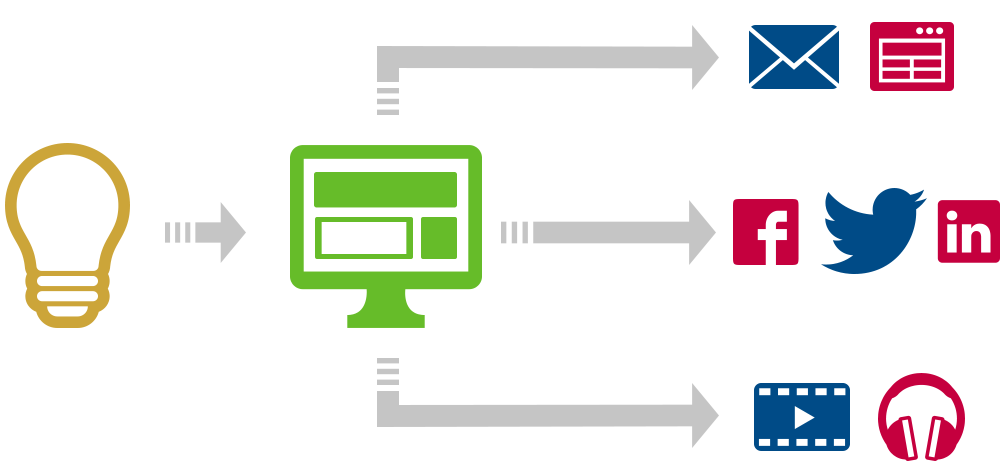 If you're writing company blog posts, sending email blasts, and posting useful information on Facebook and LinkedIn, you're already engaging in basic content marketing principles.
Content marketing is creating relevant, valuable content – in formats such as blog posts, press releases, case studies, white papers, infographics, and videos – that is focused on driving engagement among your current and prospective customers.
In addition to industry-relevant, the content that you share with customers should be informative, educational, or entertaining. It should also be specific to various members of your audience, whether by speaking towards their individual needs or answering questions they're asking during the customer life cycle.
By creating content that your customers will want to read or view, you're establishing your company as a helpful, knowledgeable leader in the field. You're helping new customers find you and existing customers feel confident they're with the right company.
The Benefits of Content Marketing
Think about this: If you have the opportunity to skip a commercial or close an online banner ad, you typically do, right?
Most people are bombarded with advertisements every day and are quick to tune them out or turn them off. With content marketing, instead of advertising to customers, you're able to create helpful resources that they'll come looking for. The content that you create can be ranked in search engines, shared on social media, or found on your company blog when a customer has a question.
And customers like helpful. If you can solve a customer's problem, share a bright idea, or help them reach a goal, you're leaving a strong impression. And with most content marketing, you did this without asking them to make a call or buy something.
With consistent content marketing you can also:
Establish brand awareness
Build your audience
Build your reputation
Improve customer service
Remind customers of your products and services
Retain current customers
Convert leads to customers
Create business advocates
Improve your search engine rankings
All of this can be done by creating content that your customers and audience find valuable.
What is good content?
Creating valuable content is about answering questions, providing resources, suggesting new ideas, and establishing a good relationship with your customers and followers.
Good content can include:
Blog posts on industry topics
Press releases on industry or company news
FAQs on customer service topics
White paper with industry insight
Case studies of your work
How-to guide on a new product
Video reviews or tutorials
Video tour of your office, facilities, or accommodations
Podcasts on industry insights
Recorded interviews with other industry leaders or partners
Infographic on strategy ideas, product specs, or industry statistics
Strong imagery of products, facilities, or previous work
PowerPoint presentation on a new strategy
Creating a Content Strategy
Creating content is the tip of the iceberg when connecting with your customers. To ensure the success of your content marketing efforts, you'll want to integrate your efforts with your other marketing outlets to comprise a coherent marketing plan.
To make the most out of your content marketing strategy, try these steps:
Outline your marketing objectives based on your sales and business goals. How can quality content help you meet these goals?
Define your content marketing opportunities via website traffic analytics, customer questions, and competitor research. Outline content ideas that will fill in these gaps.
Segment your audience into groups and build content personalized for the questions or interests of each.
Create an editorial calendar and framework for distributing your content through email, social, and SEO techniques.
Establish benchmarks, measure your efforts, and revise strategy for consistent improvements.
Just getting started, or feeling stuck? Our team is available to help you put together a content marketing plan and assist with the month-to-month development.
---
---