Why DIY Website Content is a Bad Idea
Posted on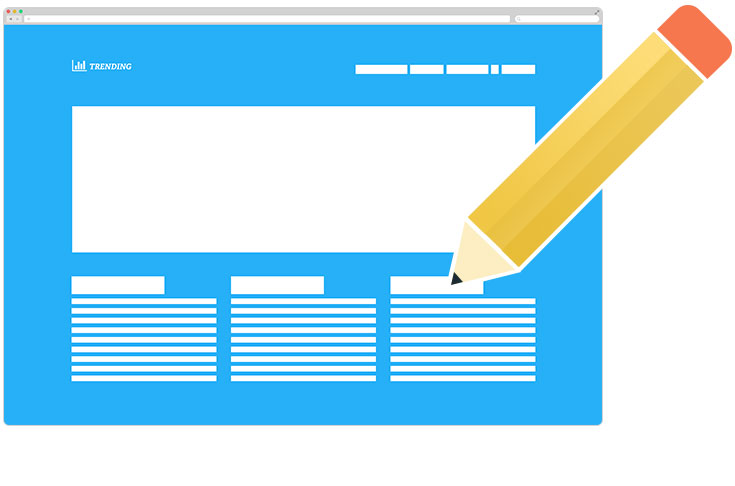 It happens all the time. Although Web Solutions offers a full complement of content creation and marketing services, many of our clients want to write their own content. So they go back to their offices to write and we go back to ours to wait …. and wait … and wait. As any writer will tell you, it's not so easy!
But even if you have the writing down, there are a lot of other factors that go into successful content. Here's why in-house content marketing can falter, and how we can help your content marketing succeed.
Quality. Most people have a lot of experience writing—emails, proposals, maybe even the occasional newsletter—and can write well enough. But is good enough what you want on your website? And then there's the fundamental stuff: It should go without saying how crucial it is that your website have no spelling or grammar errors, but judging from some of the writing we see every day, it still needs to be said. Your website is the online face of your company—don't let subpar content spoil your first impression.
Perspective. You're an expert about what you know, but your customers are less interested in what you know and more interested in information that addresses what they want to know. That's where an expert content marketer comes in. We know how to put ourselves in your customers' shoes, and leverage your expertise to write targeted content that they will find helpful.
Time. No one ever has enough time. You don't have the hours it takes to research and write great content, and your readers don't have time to read anything that doesn't get immediately to the point and provide value for them. Someone who writes all day, every day can get the writing done faster and better, and free you up to focus on what you're good at.
Structure. Content that reads like a term paper or a book might be very informative, but no one is going to read it. A good content marketer knows not only what the content should say, but how it should look. How long should your paragraphs be? Should you add section headings? What about numbers and bullets? What's the optimum length for a piece of content? We can help you with those answers to ensure your content captures your readers' attention.
Keywords. Not only can an expert content marketer write the words, they can write the right words, in the right way, to be noticed favorably by Google. Amateur content marketers sometimes know enough about keywords to be dangerous—"stuffing" them willy-nilly into web pages without building real content around them. A good content marketer will find the keywords that matter to your company and make sure those keywords are included judiciously and within the context of the piece in order to (a) offer real value to your customers, and (b) push your Google rankings up.
Voice. If you write a lot, you probably have a specific style—technical, funny, businesslike, casual, high-flown, etc. Your style fits you to a T, but it might not be right for your website. A professional content strategist will use (or create) audience personas to understand who your readers are and how they want to be spoken to. Setting the right tone for the content on your website can make visitors feel immediately comfortable as quickly as the wrong tone can turn them off and send them elsewhere.
Planning. Having fresh content on your site can make a huge difference in site traffic, but knowing what to write and when is a science in itself. Whereas you might just write blog entries as they occur to you, a content marketer will create a list of blog and news ideas and place them within an editorial calendar, ensuring that they are posted at the right times and that the subjects are tied to key internal and external events to keep them as relevant as possible.
In a successful content marketing partnership, we'll work as a team, taking your expertise and transforming it into powerful and compelling website content. As part of our content marketing services, our strategists can take the lead or work alongside you to develop an editorial system for your site messaging, blogs, press releases, and other collateral pieces.
---
---