Three Reasons You Need a Mobile Site This Year
Posted on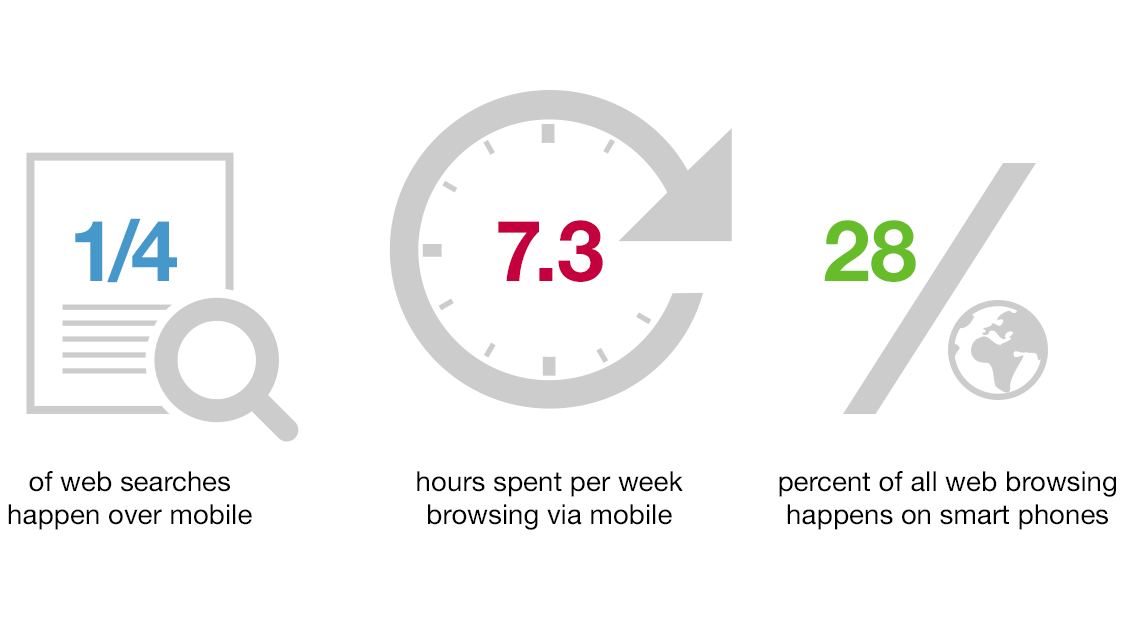 Recently Google announced updates to their search algorithm and Search Engine Results Pages (SERP) in strong support of mobile-friendly websites, making it more difficult for non-optimized sites to be found and clicked on mobile devices.
Changes like these prove that mobile isn't just a trend, and if search result placements, website traffic, and user satisfaction are concerns for your digital presence, it might be time for your site to go mobile, too.
With 1 in 4 searches happening on mobile devices and users spending over 7 hours a week browsing the web via smart phones (not including the 8+ hours on apps), it makes sense that Google would want to prioritize mobile-ready sites for on-the-go searchers. Don't get left behind – keep reading for the top 3 reasons why your site should go mobile in 2015.
1. Mobile-Friendly Websites Rank Higher in Google
In late February, Google announced via their Webmaster Tools program that non-mobile web pages would be penalized during mobile searches. Sites with Webmaster Tools may have seen a message similar to:
"Google systems have tested X pages from your site and found that 100% of them have critical mobile usability errors. The errors on these X pages severely affect how mobile users are able to experience your website. These pages will not be seen as mobile-friendly by Google Search, and will therefore be displayed and ranked appropriately for smartphone users."
This is Google's way of urging businesses to opt for mobile websites. Without one, your mobile-search rankings may suffer and searchers might not find your website from their smartphones. Google is set to roll out this mobile update on April 21, 2015.
You can use Google's Mobile Friendly Test to see if your website meets their mobile requirements.
2. Mobile-Friendly Tags Added to Search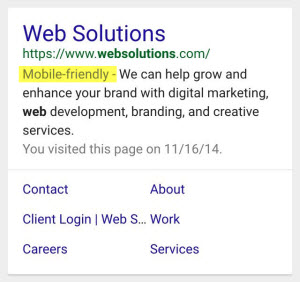 Google is helping searchers choose the best website from SERPs by adding a mobile-friendly tag to results that have a mobile website.
Now when searchers are looking for the best site to click, they can choose a mobile-ready website instead of one that's un-optimized. This added knowledge empowers the user's decision – and it's highly likely they'll choose speed, usability, and convenience when on their smartphone.
3. A Mobile Website Offers the Best User Engagement
Whether your site is e-commerce or informational, you want to make browsing as easy as possible for potential customers – especially action-oriented mobile visitors.
With click-to-call phone numbers, driving app integration, and key products or services at the touch of a button (without pinching and squinting), your website visitors will be quicker to act and feel more confident interacting with both your website and your company.
With smartphone subscriptions growing in leaps and bounds each year, the future of the web is definitely mobile! But if your site isn't mobile-ready, don't fret. It's never too late to make an improvement, and our team is here to help.
Sources:
---
---