9 Tips to Boost Your Email Click-Through Rates
Posted on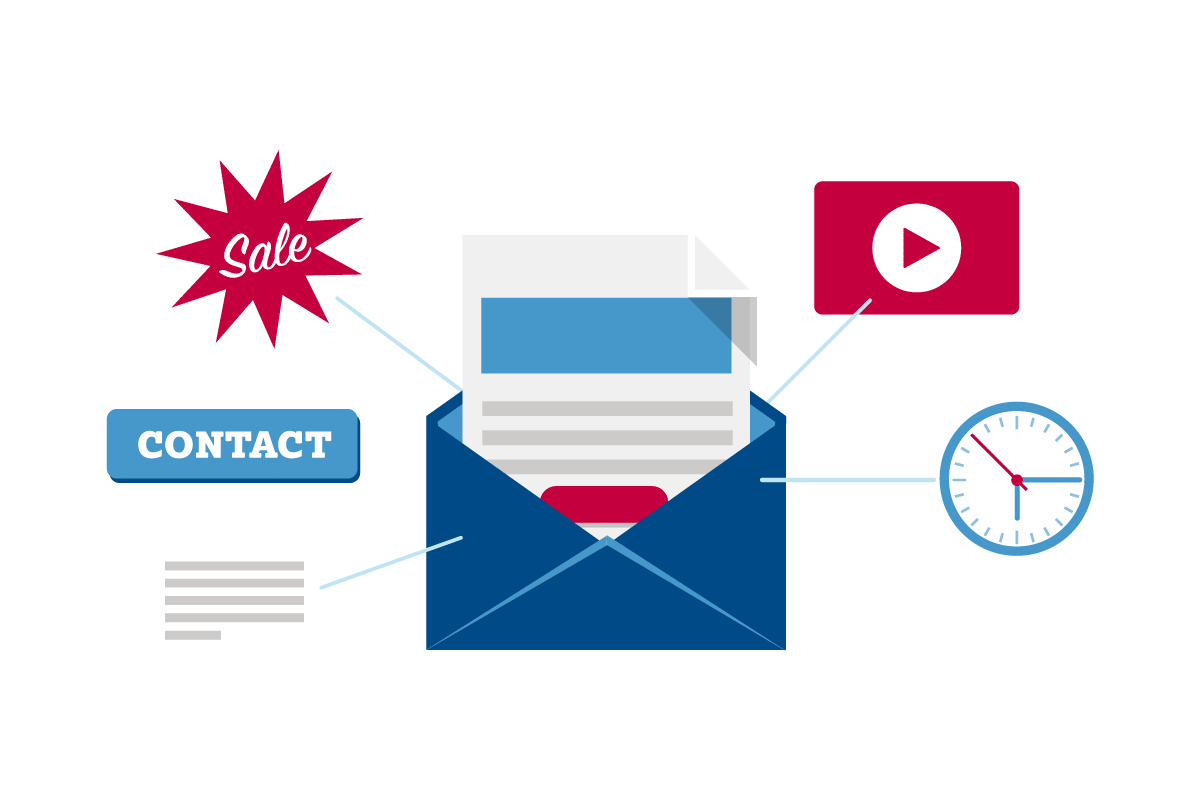 Email marketing is one of the original digital marketing channels. While it's still one of the most effective, it's not enough to send emails to leads and customers. Ideally, you want recipients to open the email and click a link to perform an action such as making a purchase, downloading a piece of content, or scheduling an appointment.
While your email open rate—the percentage of people who open your emails—is an important measurement, according to the 2020 Email Effectiveness Report, 55% of marketers say click-though rate (CTR) is the most effective metric to measure the success of an email marketing campaign.
Email click-through rate is the percentage of people who click a link in a marketing email. To find email CTR, divide the number of subscribers that click on a link in your marketing email by the number of people that received the email and multiply that number by 100. (Sometimes click-through rate is defined as clicks divided by emails opened rather than emails delivered. This is also called click-to-open rate or CTOR.)
According to a 2019 study by GetResponse, the average email click-through rate across all industries in the United States is 2.78%. If your email CTR is higher than that average, your email campaign is probably relevant to its recipients and is successfully motivating them to take action.
Assuming your open rates are adequate (around 15% or higher), how do you get email recipients to click through on a call to action once they've read the email content? Follow these tips to increase your email marketing click-through rates.
Make emails mobile-friendly. According to Adestra, 62% of email opens occur on mobile devices and 70% of consumers immediately delete emails that don't display correctly on mobile devices, so it's crucial that you create marketing emails that are easy to open and read on mobile devices. At least 33% of clicks within an email happen on a mobile device, and emails with a mobile-friendly responsive design get 15% more clicks.
Try triggered emails. According to GetResponse, triggered emails, which are sent automatically to give people information about a process they've initiated, like a purchase, registration, or download, have an average click-through rate of 10.39%, compared to 5.92% for autoresponder emails (like welcome emails), and 2.84% for email newsletters. If you don't already send triggered emails, consider adding them to your email marketing arsenal to take advantage of the higher click rates they deliver. If you already use triggered emails, consider including an extra incentive like a special deal or discount to encourage clicks.
Focus on value. People are busy and distracted, so to get their attention your email needs to clearly and immediately show them what they will gain by clicking on a link or call to action. Be specific about the value you're offering, including the benefits provided by your products or services and what makes them different from your competitors.
Appeal to their emotions. The decision of whether to click a link in an email is often dictated by feelings rather than logic. To get more clicks, use emotional triggers in your email messaging to prompt recipients to take action. Emotional triggers can include fear of missing out on a deal or opportunity (scarcity), curiosity or anticipation about something new or exciting, or a feeling of belonging to an exclusive group.
Try different send days and times. According to GetResponse, emails get the most click-throughs between 6 p.m. and 7 p.m., and also at 3 a.m., 6 a.m., and noon. In terms of days of the week, Saturdays and Sundays see the highest CTR. Every email marketing list is different, however, so make sure you test which days and times work best for your business.
Personalize email content. According to a study by GetResponse, emails that use personalization in the body of the email (rather than the subject line) get a 3.87% average click-through rate compared to 3.25% for those that don't. In addition to the most basic personalization—greeting the recipient by name—you can also personalize your email content with product recommendations using data from past purchases or images customized to the subscriber's location.
Include a video. A study by Campaign Monitor found that adding a video to a marketing email could increase click rates by 65%. Make sure you don't actually embed the video in the email. Instead, use a thumbnail or screen grab of the video with a link to the video on your company YouTube channel or a video landing page on your website.
Use a call-to-action button. Many people skim emails rather than reading them word for word, and a call-to-action button is more eye-catching than a simple text link. According to a test by Campaign Monitor, using a call-to-action button rather than a text link boosted click-throughs by 28%.
Use a powerful call to action. Make sure your call-to-action button uses compelling, action-oriented text that encourages people to click, like Shop Now, Claim Your Coupon, Learn More, or Sign Me Up. For more ideas, see this list of 75 calls-to-action.

---
---