Why Your Small Business

Needs PPC

posted on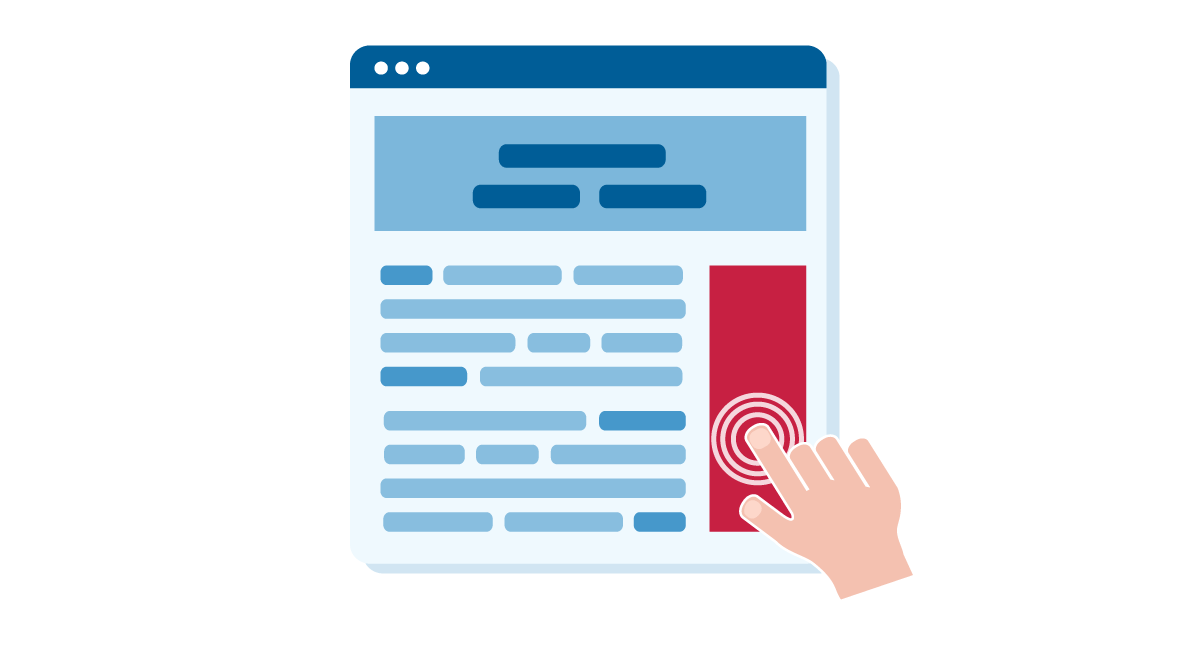 Paid search marketing, also known as Pay Per Click (PPC) or Search Engine Marketing (SEM), is one of the best ways for a small business to get fast, consistent search result traffic.
Even if you've optimized your website for organic search by including keywords, it can take time to reach a high rank on the search engine results page (SERP) for your targeted terms. PPC advertising using Google AdWords can get you top placement for your targeted search terms quickly.
What is PPC?
PPC is a type of digital marketing in which advertisers agree to pay a set "bid" amount every time one of their ads is clicked. Here's how it works:
Someone enters a search word or phrase in the Google search box.
Google decides which paid ads will be displayed based on the relevance of the ad and landing page to the search, the cost-per-click (CPC) bid on the keyword(s) searched, and Ad Rank, which is based on a number of factors.
Google displays up to four paid search results at the top of the page, followed by a list of organic (unpaid) search results. Google may also display additional ads below the search results.
If your ad is displayed and someone clicks on it, they will be taken to the designated page on your website, and you pay your bid amount.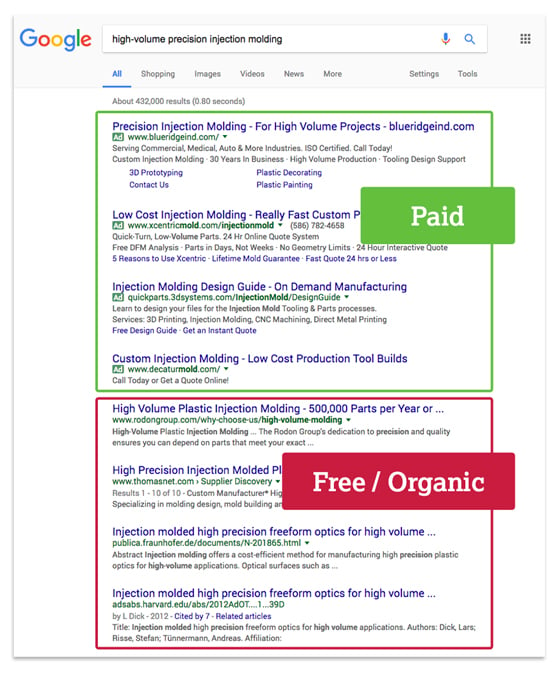 The Benefits of PPC for Small Businesses
Fast results.
Using SEO to boost your organic search ranking can take weeks, months, even years. With PPC, you can be on page one for your target keywords within a day.
Brand recognition.
Even if they don't get any clicks, PPC ads get your name in front of your target audience.
A competitive edge.
You might not want to go head-to-head against a larger company on a high-traffic term like "manufacturing," but you can use long-tail keywords (i.e., "high-volume precision injection molding") to promote your specialties and reach your ideal customer.
Bang for your buck.
Return on investment (ROI) tends to be high for PPC, with Google claiming that businesses make an average of $2 in revenue for every $1 they spend on AdWords.
Better control.
With PPC, you can control when and to whom your ads will appear, allowing you to target your desired audience with pinpoint accuracy and reach them at the moment they're ready to convert.
Measurable results.
With PPC, you can measure everything having to do with your ads and keywords, including views, clicks, visits, leads, sales, costs and profit.
The Downside of PPC for Small Businesses
It's complicated.
Getting started with Google Adwords is easy enough, but the devil is in the details. Once you have an account, you'll need to know how to bid, choose the right keywords, improve your Ad Rank and quality score, write engaging ads, use ad extensions, manage campaigns, plus hundreds of other tips and best practices that some digital marketers spend their careers trying to master. And that's just with Adwords—there are also pay-per-click advertising services offered by Bing and all the major social media platforms.
The rules change.
In 2016 alone, Google made two major changes to Adwords—it eliminated right-side ads and introduced (and later mandated) Expanded Text Ads. Keeping up with best-practices can be a challenge for a small business with a lot of other balls in the air.
It's time-consuming.
While the ROI can be good, when you factor in all the time you spend running your own PPC campaigns, it can start to look like a less than optimum investment if you have to do it all yourself.
Costs can add up fast.
If you're managing your own PPC campaign, you must carefully monitor your daily budgets and cost-per-click to make sure your efforts aren't costing more than they're bringing in.
---
Getting started with PPC can be overwhelming, but you don't have to do it alone. As a Google Adwords Certified Partner we have the expertise to create a PPC strategy to grow your business.
---