How to Use Facebook Messenger

to Slide into Your Customers' DMs

posted on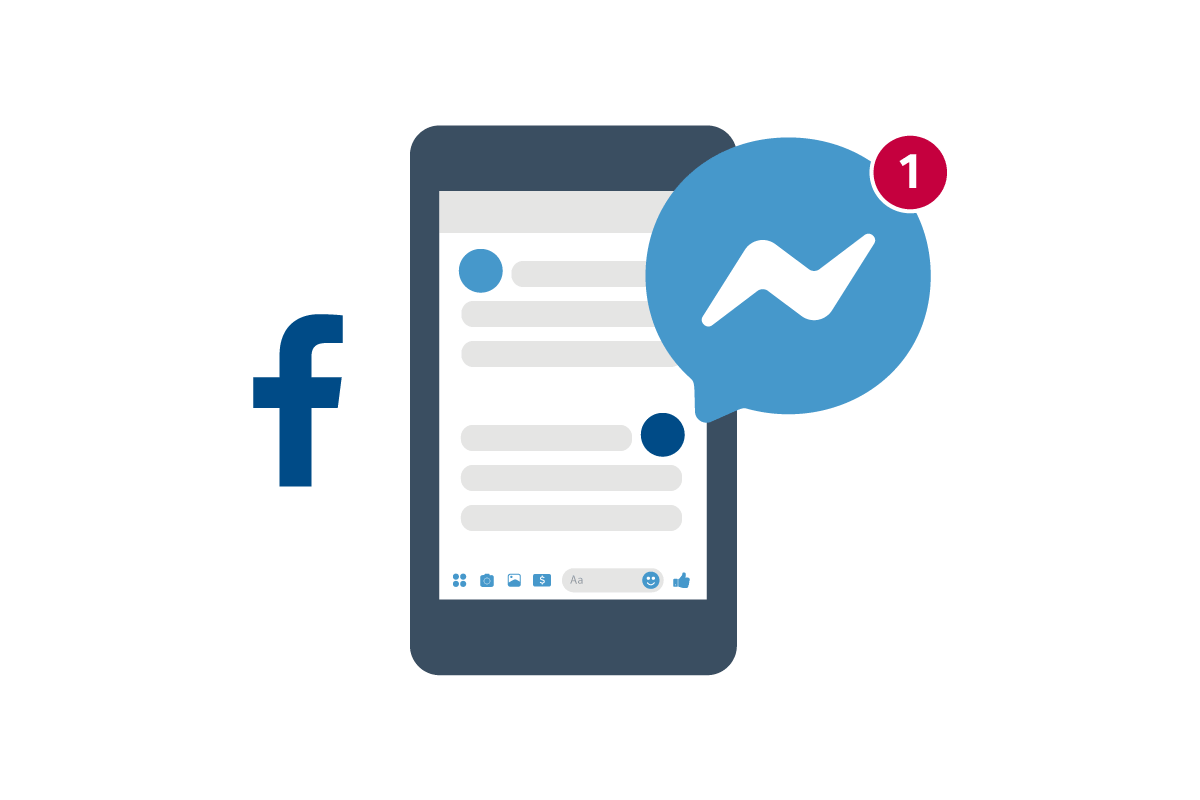 One of the keys to successful marketing is being able to make real connections with your target audience. These days, when you want to connect with someone in your personal circle, you probably do it via text.
When businesses want to connect with customers, they still mostly use email, but if you want to move your communication to a more immediate medium that feels more personal, there's Facebook Messenger.
Facebook Messenger, an app that enables one-on-one and group messaging, launched in 2011 and now has 1.3 billion monthly active users. Of the people who use Facebook, 64% use Messenger as well.
For businesses, Facebook Messenger has the benefit of enabling direct communication with customers that is more private than social posts and more targeted and personalized than email.
According to Facebook, 20 billion Facebook Messenger messages are sent between people and businesses each month, and 69% of U.S. consumers that use messaging say being able to message a business makes them feel more confident about the brand.
Not only are people increasingly using messaging to reach out to companies, they are also more open to receiving messages from businesses. According to MobileMonkey, the average open rates for Facebook Messenger messages is 50-80%, compared to around 20% for emails. Approximately 20% of people who receive direct messages will click through, compared to the average 3% click-through for emails.
How to Set up Facebook Messenger for Your Business
Before you can start using Facebook Messenger for your business, you need to set it up.
Your Facebook Messenger username is the @ sign followed by your Facebook page name; it should appear under the name of your company on your Facebook page.
To turn on Messenger for your Facebook page, go to Settings, select General, scroll to Messages and click Edit. Click the "Allow people to contact my Page privately by showing the Message button" option and click Save Changes.
Once you have Facebook Messenger set up, try these ways to reach your customers.
6 Ways to Use Facebook Messenger
1. Send Automated Messages
If you have a Facebook page, you can configure Messenger to send automated messages to people who interact with your page. To welcome people to Messenger, you can send an automated greeting to anyone who opens a conversation with your Facebook page on Messenger, even before they send a message. Sending an automated greeting is a great way to welcome page visitors and tell them what they can expect from your Facebook page and where to get important information and content from your brand.
You can also set up instant replies, which are automatically sent to anyone who sends a message to your business, to let them know you have received their message and when they should expect to hear back from you.
If your Facebook page is set up to allow people to make appointments with your business, you can also set up automated appointment-related messages through Facebook Messenger, including an appointment reminder the day before an appointment and a follow-up message after the appointment.
All automated messages come with standard text that can be changed to suit your specific needs.
2. Provide Customer Service
The quality of your customer service can make or break your company, and Facebook Messenger offers a way to improve and personalize the way you help your customers. By using Facebook Messenger for customer service, not only are you helping solve your customers' problems, you're doing so with a method they actually prefer: According to a survey by Nielson, 56% of people would rather message a company than call customer service.
When someone posts a comment on your Facebook page, Messenger lets you take the conversation private so you can deal with their specific issue. Now, rather than publicly asking them to email or call you directly, you can simply reply to a comment with a private message via Messenger.
The public comment will remain visible, but your private messages will be hidden—all other page visitors will see is a note next to the comment saying that you responded privately, which shows you are not ignoring your customers.
3. Use Messenger Links
If you want to reach potential customers who haven't connected with your brand on Messenger, you can use Messenger links to encourage them to send you a message.
Messenger links, also called M.me links, are shortened URLs that, when clicked, send people to your Facebook page and open a conversation with your business in Messenger.
Messenger links, which appear as m.me/[yourbusinessusername], can be used on your website, added to your email signature and business cards, displayed on your product packaging or marketing materials, or even embedded in a scannable QR code.
4. Create Facebook Messenger Ads
There are a few ways to create Facebook ads that integrate with Messenger. Facebook Messenger ads are display ads that appear in the Messenger app alongside other messages and can be used to reach anyone that matches your target audience, even if they have never visited your Facebook page. When someone clicks a Messenger ad, they'll be taken to a detailed view within Messenger, with the call to action you've selected.
Click to Messenger ads look like normal Facebook ads and appear in the news feed or on Instagram, but instead of sending people to a website landing page, the ad has a Send Message call to action that, when clicked, starts a Messenger conversation with the business. Research shows that click to Messenger ads perform as much as five times better than traditional Facebook ads.
Facebook's Reach ads let you target people in a specific geographic area with an ad and give them the option of clicking to message the business. Reach ads can be used to tell people they are near your business location and encourage them to visit, tell people about a current sale or promotion, or simply increase awareness of your brand. Choosing the Send Message call to action for your Reach ad gives people the option of sending you a private message on Facebook Messenger directly from the ad.
With sponsored messages, which show ads to customers you have already communicated with via Messenger, you can send updates, promotions, and offers to nurture existing relationships and reengage people your brand has connected with in the past.
5. Sell Products and Services
Facebook now gives businesses the ability to sell products and services directly through Messenger. Adding a Messenger sales channel to an ecommerce site lets customers view products and shop from within Messenger then be redirected to the website's checkout page to make a purchase.
Customers can even make purchases without ever leaving Messenger using a Buy Now button embedded in a Messenger message and payment via PayPal. Customers who make purchases within Messenger will even get an order confirmation and the option of seeing a receipt.
6. Get Customer Feedback
Customer feedback is crucially important, but getting it can be a chore. With Facebook Messenger, rather than emailing customers a survey or asking them to write a review, you can simply send a message asking them how they are enjoying their purchase and letting them know you are there to help if they need anything.
You can also use a chatbot and a survey builder to create surveys in Facebook Messenger, which are quick and easy to fill out and tend to have higher response rates than surveys sent through email.
---
---